Cosmic and Earthly Impulses
Biodynamics New Zealand proudly presents Cosmic and Earthly impulses in Biodynamic Agriculture
with Hans & Ineke Mulder, Marinus La Rooij and Dieter Proebst
13th to 16th October 2021
Oasis Yurts Lodge, Wanaka, Central Otago
If you are looking to deepen your understanding of Steiner's methods and teachings given at Koberwitz in 1924, this course will provide you with valuable insights into what has become known as the "Agriculture Course". This foundational course being held in 2021 in Wanaka is intended for those who have already worked with the indications of biodynamic agriculture.
We are fortunate to have experienced and learned biodynamic practitioners facilitating the programme. The Facilitators will introduce different aspects of the "Agriculture Course".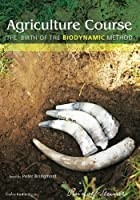 Hans van Florenstein Mulder (day 1 and 2: lectures 1 to 5),
Marinus LaRooij ( day 2: lecture 6),
Dieter Proebst (day 3: lecture 7)
Marinus LaRooij (day 4: lecture 8).
Participants are asked to read or listen to the eight lectures of the Agriculture Course given by Rudolf Steiner before the start of the seminar. Note the Agriculture Course and many other Rudolf Steiner works are available to download, print or as recordings. You can find them at the Rudolf Steiner Archive and eLib or at Rudolf Steiner Audio. Please consider making a donation.
Along with gaining a deeper understanding of the eight lectures and enjoying the company of like-minded participants, the course fee of $550 per person for members and $633 for non-members covers morning and afternoon tea, lunch and dinner. The final day will conclude during the afternoon so no dinner provided that day. A Certificate of Completion for the course will be given to attendees.
Limited discounted accommodation is available at the venue. To get this discount please book your accommodation through Biodynamics New Zealand by contacting Su Hoskin, Education Co-ordinator on education@biodynamic.org.nz. Check out information on the Oasis Yurts.
There has been a call for this type of course to be run for a number of years. Places are limited so don't delay in registering. Click here to purchase your ticket(s) and register for the event.
If you cancel your registration for any reason after Wednesday, 6th October 2021 refunds will not normally be given. If Covid restrictions force the event to be postponed, refunds will be given if you are not able to attend on the new date.
The Education Co-ordinator programme is generously funded by the Kete Ora Trust.