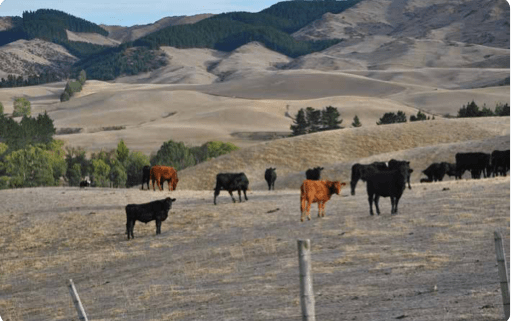 Harvest Article – Summer 2015
Biodynamic farmer Ian Henderson describes how the Milmore Downs team have shepherded their farm through the worst drought in its history.
Milmore Downs is a 302-hectare mixed livestock and cropping farm that has been Demeter-certified since 1983. It is also one of the longest-certified BioGro organic properties in New Zealand (BioGro no. 019).
It's in an area that has seen some of the worst of the recent drought, and may yet see more of the same
North Canterbury experienced a very severe drought over the period June 2014 – August 2015. The rainfall for the ten months up to 31 March was a mere 230mm. The long term annual rainfall averages 707mm, but with the continuing lack of rain into the winter, this past year was by far the driest since records began in 1960. Together with long periods of northwest winds, the soil moisture deficit reached permanent wilting point early in the spring. With little hay made due to the drought's early onset, no pasture cover to permit autumn-saved pasture to be carried into the winter, and failure of winter feed crops due to the dry, a serious feed deficit occurred in late autumn and through the winter.
The animals were looking at lean times, and our crops also had to squeak through on absolutely minimal soil moisture until harvest in January 2015. The harvest, unhindered by any precipitation, was quickly safe in the silos, and though lower-yielding, it was of exceptional quality.
"The animals were looking at lean times, and our crops also had to squeak through on absolutely minimal soil moisture.
We sowed the autumn-sown cereals (wheat, spelt and rye) in land that had been well prepared in advance, and which had stored enough of the meagre rainfall to provide for germination and survival through the winter.
The September rainfall was slightly above the month's average, and with warming temperatures, the growth was dramatic. The earth needs to become a plant, and its pent- up frustration at not being able to realise this desire finally resulted in a rapid greening of the landscape. Those late autumn-sown crops are growing rapidly; the spring wheat and barley also still look fine. However, our hope for a good spring has been somewhat dashed by the building El Niño, with cooler temperatures, frequent strong drying Norwest winds and no follow-up rain. We are now wondering what the summer will offer, and are starting to put contingency plans together – again.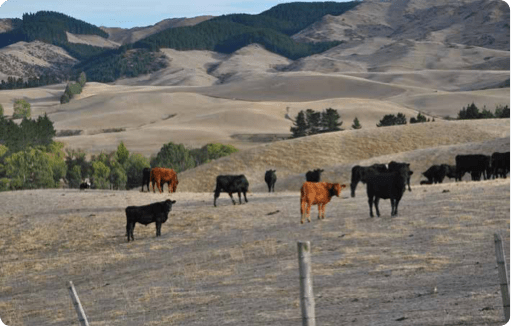 But, how did we survive until now?
The animals were fed, but lost a lot of condition. Normally the farm supplies all the fodder needed, but that was clearly insufficient this past year. Barley that was destined to be milled to high quality flour was fed to young and capital stock. We sourced certified organic molasses lick blocks to help the animals digest the high-fibre straw diet, and organic linseed press cake to help with energy requirements. Unfortunately we had to resort to importing some conventional grain, with approval from BioGro/MPI, for the sheep on our BioGro-certified runoff.
The cows went to Demeter-certified grazing at Pyramid Valley Vineyard – a real lifesaver for them made possible by Claudia and Mike Weersing – a huge thank you! All stock that would normally have been finished to good slaughter weights have been sold at high discounts into the store stock market.
Capital stock is lean, but by some miracle they bore lambs and calves, and are supplying milk!
But looking at others in the district, Milmore Downs has survived well, and it seems that biodynamics has played an important role in helping to buffer these extreme conditions.
This property has been farmed biodynamically since 1978. A lot of energy has been invested in drought-proofing. There are extensive shelter plantings to reduce evapotranspiration; all pastures are mixed herbal leys with deep-rooting species; river flats are sown to lucerne; there is a small flood harvest irrigation scheme; we have conservative stocking rate policies; and the crop rotation incorporates cereals, which provide straw as additional animal fodder. The diversity of the farm, a diversity that is integrated with each sector supporting the others, provides a high degree of stability.
The consistent use of the biodynamic preparations offers strong support to this farm organism. The main contributions of preparation 500 – with the cow pat prep included in all sprays, covering the farm twice a year – show up in rooting depth and soil structure. Both of these parameters are important for the soil water household, giving the plants greater reserves to draw on. In conjunction with naturally deep-rooting pasture species, healthy soil appreciably extends the season of green material available for grazing. Of course, at some point there is just no water left at all, but that point can be pushed well out.
Preparation 501 plays an important role in the early spring, helping to increase the photosynthetic efficiency of the plants when light levels and the angle of the sun are still low. Adding preparation 507 also helps to mobilise phosphate reserves when the soil is still cold, helping the early spring growth to get off to a better start. Usually 501 is also sprayed in the autumn to help carry grass into the winter, increasing dry matter levels and hence reducing frost damage. This year, this was not an issue, as the farm carried almost no leaf into the winter.
We have done another trial (previously attempted in the mini-drought in 1998) involving rhythmic spraying of the preps, using morning and evening of the same day to strengthen the earth/cosmic influences in an attempt to increase the tension between them and induce rain – once again to no avail. (Any information on refining this idea would be most welcome.)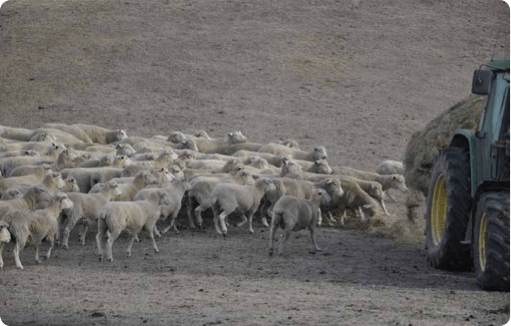 Looking forward?
NIWA forecasts a moderate to strong El Niño event this year, so without a doubt, the weather will be difficult. As I write the wind is a hot dry Norwester gusting to well over 100 kph; the irrigation should be running, but it makes no sense to do so, and I expect we'll have more trees down by day's end. Rainfall will in all probability be below average until April next year.
Despite all this, there are some improvements that we
can make. We have been considering browsing fodder – better use of our willows alongside the river, using poplar conservation plantings also for fodder. We are also working to identify sale stock earlier through a more developed 'one year' cull mob system.
We are conducting a groundwater survey, looking to modestly augment our water harvest system, which saves winter flows in an on-farm storage for use in the summer.
Another major need is to get some respite from the stress levels – the worrying about where to shift hungry stock next, whether the feed budget will hold up, whether crops can bear sufficiently for all the people relying on grain and flour from Milmore Downs. We have staged absences – Matt is currently tanking up off-farm – and they are giving some essential rejuvenation.
But the rallying of support for the farm has been truly heartwarming. Customers, colleagues in the Demeter world in New Zealand and internationally, Rudolf Steiner Schools in Motueka and Christchurch have offered gift moneys as contributions for working capital/continuing survival. Work has been offered, positive thoughts and expressions of the importance of continuation at Milmore repeatedly expressed. It is so good to be embedded in the wider biodynamic landscape, enormously appreciated, and humbling. Thank you all very much.
https://biodynamic.org.nz/wp-content/uploads/2022/12/big-dry-harvest.png
326
511
Biodynamic
https://biodynamic.org.nz/wp-content/uploads/2022/02/logo-for-web2022-colour2.png
Biodynamic
2022-12-22 16:33:17
2022-12-22 16:33:39
The Big Dry