Harvests Summer 2016/17 out now!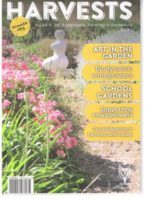 Our Summer 2016/17 edition of Harvests is now available through selected retailers.
In this issue, Anne Dodds looks at the relationship between art and gardens; David Wright contrasts and compares the scientific and philosophical worldviews behind chemical, organic and biodynamic farming; and Demeter-certified berry grower, Joanne Turner, talks about the challenges facing small organic and biodynamic producers.
It's great summer reading and remember, if you're an Association member, your discounted annual Harvests subscription is included in your membership fee. Learn more about joining the Association here.