Making Compost at Schools and Gardens
Harvest Article – Autumn 2015
Andrew Seagar speaks from experience
Over the past 25 years, I've worked in many different agricultural and horticultural situations. They have ranged from a 500-acre mixed biodynamic farm on the Kaipara, to the two-acre Demeter market garden that I've developed south of Hastings since 1991.
I've worked in 15 schools, developing food gardens with primary and intermediate children, since the '90s. I've done compost demonstrations through local councils, OANZ and education trusts.
Making compost combines art and science beautifully. If more schools did science lessons around a compost heap, we wouldn't have the fragmented, over-specialised science we have today.
Gardening in schools has as much to do with building relationships between the school and the wider community as it is about growing food. A healthy relationship with the caretaker is crucial. Some schools use glyphosate (Roundup) on borders and path edges to kill weeds. Any school serious enough about sustainable organic gardens will hopefully NOT use Roundup. Some caretakers embrace school gardens and can be a great help for part-time gardeners entering into a new situation. Diplomacy with caretakers is a must.
When a school garden is first developed, there is usually no compost, so I buy in a cubic metre. We are lucky in Hawkes Bay in that we've had three commercial compost makers over time. One even inserted BD preps in pre-ordered supplies. Companies will usually supply at much reduced rates to schools.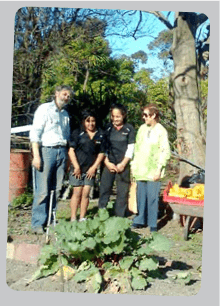 Sourcing Compost Materials
GRASS MOWINGS
Most schools have plenty of freshly cut grass for compost-making and mulching. Again, liaising with the caretaker will reduce the workload. All of my cut grass on my own property goes for compost-making.
OLD STRAW/HAY/BEAN HAULM
I have some of these materials on my own property, but knowing local farmers helps. Weed seeds can be a problem in some materials. A compost of 4 or 5 cubic metres will get hot enough to kill weed seeds, especially if it is turned and reheated.
Manure collection is something to include children in. Going on school trips to collect manure or seaweed is enjoyable for kids. Riding for the Disabled is a good source of horse manure. Sheep manure from under woolsheds has provided a good source of manure for me over the years. The droppings are for the most part dry, and are best soaked in a barrel before layering in the compost.
MINERALS
Rock dusts such as basalt are best when biologically activated in compost. Four or five kilos sprinkled throughout the heap will suffice. I regularly use Rok Solid, a product with basalt, seaweed and fish. Blood/bone flour and dried blood are good sources of nitrogen. A handful or two of lime between green layers can reduce denitrification within the heap. I keep the lime away from fresh manure though. I've been gifted lime from the local quarry for school use, although hydrated lime I've had to pay for.
WATER
The right moisture content in compost is crucial, and the type of materials and the season will together determine the amount of water to be added. In a drought- affected region like Hawkes Bay, I have used 500 litres of water when building compost in dry conditions when materials have not been stockpiled. Where materials have been stockpiled, such as in compost bins, more moisture has been retained, so less water is required when building the heap.
COMPOST BINS
I used to build the standard three-bayed bin system in many schools, and it's another skill kids can learn – basic carpentry. But free-standing windrow heaps are easier in a group, and can be built anywhere. Also, untreated timber doesn't last long as bins, unless you are lucky enough to know a farm forester who can supply locally grown, untreated hardwood planks, like eucalypt, which was the case in one school I worked in.
https://biodynamic.org.nz/wp-content/uploads/2022/04/Finished-compost-pile-scaled.jpeg
1920
2560
Biodynamic
https://biodynamic.org.nz/wp-content/uploads/2022/02/logo-for-web2022-colour2.png
Biodynamic
2022-12-12 11:19:14
2022-12-12 11:19:26
Making Compost at Schools and Gardens